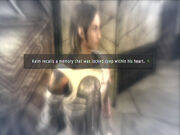 The dreams in 'A Thousand Years of Dreams' unlock when Kaim encounters something that triggers his, Seth's, and Ming's memories in the game. The following is a list of locations and circumstances required to unlock each of the dreams in the game. You must unlock Hanna's Departure before you can unlock the rest of the dreams.
To re-read any of the dreams in game simply go to sleep and the dream menu will come up and you can read any dream you have already unlocked. Additionally we have complete transcripts of the dreams for your reading pleasure, just click on the title of the dream you want to read below.
There are 2 bonus dreams obtained via downloadable content. The first one is only available to those who pre-ordered the game.
(See also: Category:Dream Transcripts)
List of Dreams and Triggers
[
]
Bonus Pre-Order Dreams
[
]
Downloadable Content Dreams
[
]