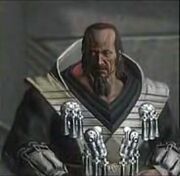 Roxian is the Chairman of Uhra. Since Uhra has reformed to become a republic rather than a monarchy, he rules in Tolten's stead. Roxian orders the investigation of Grand Staff and places Gongora under house arrest. He is killed by a snake under Gongora's control.
A fake Roxian, summoned by Gongora, attacks Tolten and is killed. It is immediately after this that Gongora convinces Tolten to cover up Roxian's death and take over Uhra as King.
Roxian was voiced by Richard Greene(EN) and Mugihito(JP).