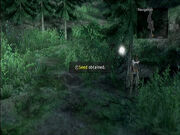 There are 99 Seeds scattered throughout this massive game. Every 20 seeds you give to the Pipot you receive a reward (rewards listed below). If you miss any seeds from locations that you can't access again you can buy them from the Auction House in Saman. Collecting all 99 seeds is a requirement to complete the Skill Master (as you need Pipot Collar) and to get the Treasure Trove Achievements.

The seeds are listed in the order of when you are first able to acquire them (more or less). Your actual order may vary.
Seed Rewards
[
]
Seed Locations
[
]
Disc 1
[
]
Disc 2
[
]
Disc 3
[
]
Disc 4
[
]
Underwater Seeds
[
]
To find the Five Underwater Seeds , follow the link to the Underwater Map. Or view the map below.