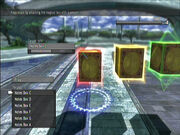 Cubic Music is a side quest that requires you to hit boxes in a particular order and create music. If done correctly, you are rewarded with a prize. Your party make up does not matter as long as you have the required amount of members for the song. (Example: Score #1 requires 4 members as there are 4 notes to hit, but Score #7 requires 5 members because there are 5 notes at most)
Cubic Musicians can be found at White Square in Numara, Central Station Square in Uhra, and the Guest Area of the White Boa.

The first Score is given to you by Lato but the rest must be discovered before you can play them. Listed below are the locations of all the scores and the rewards for performing them correctly. The most important reward here is the Sunderch Glasses which will reveal the locations of Invisible Treasure Chests.
Score Locations
[
]