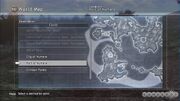 This page contains a list of Side Quests available in Lost Odyssey
Side Quests are activities separate from the main story line that will have your party globetrotting around the Lost Odyssey world. They are differentiated from Errands in that completing them involves visiting more than one area on the game's World Map. The Quests are listed in the order that they first become available.
     Multiple Locations
Edit
A Reminder
Edit
If there is a quest that you think is missing please CHECK THE ERRANDS PAGE BEFORE ADDING IT.