Slot Seeds add an extra skill slot to the immortal character upon which it is used. In total, there are 49 available slot seeds from the retail edition of the game, plus an additional 25 from DLC 3 (Seeker of the Deep - 80 MS Points), bringing the total up to 74. Immortals can have a maximum of 30 additional slots.
Care should be taken to not limit the number of slots an immortal can use. An immortal should use slot seeds to aim for a certain number of slots: 3-12, 15, 17, 20, 22, 25, 27, or 30. These combinations will allow the immortal to use slot+ skills to achieve a total of 30 skills. If the immortal has a natural number of skill slots not in this set, such as 18, they will not benefit from those extra slots. Adding slot +3 and slot +10 will still only result in 30 total slots.
Note: If you reach 30 slots at any one point, say you have 12 and all 3 slot skills, the game will not allow you to add slot seeds to a character. If you temporarily remove the slot + skill and then add your slot seeds, the skill can then be re-added onto the character afterwards.

Not all combinations that result in a total of 30 skill slots are equal. Remember that the slot+ skills prevent one slot from being used for another skill. So if the immortal has 20 natural skill slots and uses Slot +10 to reach 30 total skill slots, they will have 29 effective skill slots. This is better than the immortal having 22 natural skill slots and using both Slot +3 and Slot +5 to reach 30 total skill slots because this will result in only 28 effective skill slots.
Slot Seed Locations
[
]
Disc 1
[
]
Disc 2
[
]
Disc 3
[
]
Disc 4
[
]
Underwater Seeds
[
]
To find the two underwater Slot Seeds view the map below.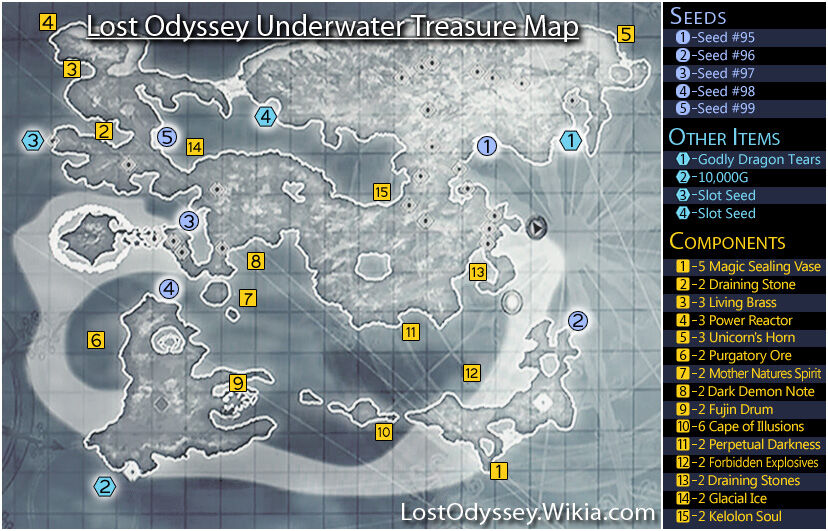 Backyard Events
[
]
Extended Content
[
]