Jurassic World: Dominion Dominates Fandom Wikis - The Loop
Play Sound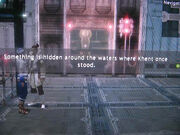 As you journey through Lost Odyssey, you will be given clues regarding several special treasures hidden throughout the world. In order to find these treasures, you will need a treasure report (obtained either from NPCs or through Dream Triggers) and a Magic-Powered Locator. Some treasures are more difficult to detect and will require higher level Magic-Powered Locators. (Magic-Powered Locators are "Valuables" that are always active. There is no need to equip one.)
Once you have a clue and the appropriate Locator, the treasure will show up as a faint orange symbol on your mini-map. When you approach the symbol, the controller will vibrate and you should see an "Examine" prompt.
You can find the list of treasure reports that you've already discovered from the menu, under Item and then Treasures.
Gar, the pirate inside the Pirate Fortress on disc 4, will provide players with hints detailing the locations they can go to in order to pick up missed treasure hunts.

For additional information (and helpful screen shots) about each individual hunt just click on its name from the list below.
Treasure Hunts
[
]
Report

Level

Trigger

Hint

Location

Items received

1
Tosca Treasure Hunt
1
Automatically obtained after receiving Treasure Locator
A treasure lies in the "highest place in Tosca"
Tosca South, on the tower
Dark Crystal Staff
Dark Crystal Ring
2
The Bird's Shiny Treasure
1
Talk to Innkeeper Tolty at Tolty's Inn in Tosca
A bird hid something near the front door of the old sorceress' mansion.
Old Sorceress' Mansion - Area inside the gates and to the left of the front door.
Virus
3
The Black Cave's Mysterious Treasure
1
Talk to Deeno at Deeno Family House in Tosca
An object charged with magic energy lies in the great monster meeting hall in the Black Cave
Black Cave - The Great Hall of Foul Creatures Enter from the North and it is in the right side where the minimap forks at the bottom (character's left)
Curse Blocker
4
Talio's Returned Favor
1
Talk to Talio Saman'sMain Street (several times) after completing Thief in Saman quest.
A smuggling-ship crewmen hid something in front of the water banks at Saman Port
Saman Port - End of the pier
Splitter
5
King of the Glaciers
1
Talk to Zamilo in Emelo's Tavern in Saman after Experimental Staff
The monster king of the Ice Canyon hid something within the ice.
Ice Canyon - Ice Gorge - Northern tip at the base of the frozen mammoth
Water Charm
6
A Refugee's Misplaced Item
1
Gohtza, Low Town - when frozen over, talk to Belgen in the hallway, 10th floor of the Abandoned Apartment.
Someone dropped an item on the road that leads out of low Town.
By the entrance to Low Town (on the west side) close to the broken elevator.
Scroll of Balance
7
An Item at the Hot Spring
1
Talk to "Still Pale Lakks" in the Gohtzan Refugee Camp (Medical Tent) after completing the Don quest
The army dropped a box of supplies near the hot spring in the Gohtzan refugee camp.
Gohtzan Refugee Camp - Go down the ladder to the hot spring.
Spire Commander
Spire Ring
8
Hidden Treasure in Station Square
1
Talk to Complaining Man Raha in The Central Station in Uhra
The royalist's treasure lies inside the station-square monument.
Uhra - Station Square by the fountain.
Gaia Breaker
Gaia Ring
9
Sewer Junk
1
In front of Virno's Tavern on Uhra'sMain Street) talk to Devious Muhga
A family heriloom was dropped into Uhra city's sewer.
Uhra -Go through the back door of Tolsan's inn, then enter the sewers via the pipe. Go down two staircases, item is to the right of the staircase after (Back Alley Sewers)
Scroll of Secret Skills
10
Trash Can Treasure
1
Talk to Virno on disc 4 in Virno's Tavern - (Uhra - Main Street)
A treasure was thrown into the trash behind the inn in Uhra.
Uhra - Behind Tolsan's Inn. You will need Tolten in order to open the door.
4x Byproduct X
11
King Gongora's Secret
1
Talk to Maios, a Soldier at The Great Gate in Uhra
A treasure is hidden in Gongora's secret research lab.
Magic Experimentation Laboratory in the Secret Cave under Gongora's Mansion You will need Tolten to open the door.
Demon King's Horn
Demon King Ring
12
Cave Treasure
1
After Gohtza freezes talk to Jeeg at Elevated Entrance in Gohtza
An ancient pirate treasure lies in the Terrace Cave on the Numara coastline.
Terrace Cave (Nautilus required)
12x Master-Thief Tool(s)
13
Art Piece from the Ruin
2
Talk to Troubled Barle in Audun's Item Shop in Saman.
Ancient Eastern Tribe Jewelry is buried in the Great Ancient Ruins.
The Great Ancient Ruins - Throne of the Sun- Near the center of the zone.
Lucent Dragon Discus and Lucent Dragon Ring
14
Lost at the Fountain Square
2
Talk to Bored Rakki in the lobby of Thelran's Inn in Numara
An item was lost during the confusion around Numara's Fountain Square.
Numara - White Square - on the left side in between the fountain and the planter.
Refreshus
15
Treasure in a Destroyed City
2
Talk to Gentle Husband Numan in Sanuman Family House on Canal Street in Numara.
An old Ghost Town resident's family heirloom still remains buried there.
Numara - City of Ruins, where the stone monster used to be
Reversa
16
Missing Materials
2
Talk to Pond Watching Crewman in the Guest Area of the White Boa
Some materials left on the deck of the White Boa are now missing
White Boa Main Deck
x3 Star Absorber(s)
17
What the Cursed Mask Guards
2
Talk to Toton and Tatan in Katyla Family House on Canal Street in the Numara.
A treasure from the east is hidden deep inside the Temple of Enlightenment
The Altar of Truth (a statue behind the boss) in the Temple of Enlightenment
Phoenix Discus
Phoenix Ring
18
Hidden in the Cave
2
Enter the Forgotten Cave. Cutscene wih Seth reveals Treasure Hunt.
Somone secretly slipped into the Forgotten Cave and left a treasure.
Treasure is located in the North-Eastern area of the map, in a cove. It only blinks when on the top level, however.
Angel Guard
19
Sunken Town
3
Talk to Clean-Loving Crewman Kelenoth in the White Boa Engine Area.
Something is hidden around the waters where Khent once stood.
Underwater around Northern Shore of Ipsilon
Solomon Staff
Solomon Ring
20
Sunken in the Sea of Baus
3
Talk to Virno in Virno's Tavern - Uhra
Valuable materials lie on the seabed near Crater Island
Underwater south of Sea of Baus
Apocalypse Rod
Apocalypse Ring
21
Treasure Beyond the Waterfall
1
The Hero dream, approach Tibero in Tosca for the trigger.
Hidden somewhere in Tosca Village, a present for Kaim from the children.
Behind the waterfall in ToscaYou will need to jump a series of rocks to get there.
Medusa's Head
22
Lirum's Treasure
1
So Long, Friend dream. After you get Sarah go to Tolty's Inn walk upstairs and then towards Tureo and Hodgeo for the trigger.
A treasure that Lirum held dear is hidden somewhere in the cliff on the Northern Cape
Northern Cape - The area is very small so you should see the marker immediately with the mini-map zoomed out.
Ailment Void
23
The General's Memento
2
Signpost after you return to the camp approach Melaine in the Medical Tent for the trigger
The personal effects of the general who hired Kaim lie in the Crimson Forest.
Crimson Forest - Near Swamp, in the north-east corner.
Ogre Bangle
24
Sarah's Gift
2
Beyond the Wall dream, walk towards Tuncan on Uhra'sUhra - Main Street for the trigger
Sarah's present is hidden in the mansion's courtyard.
Old Sorceress' Mansion - Courtyard normal universe.
Blazing Fire Amulet