Jurassic World: Dominion Dominates Fandom Wikis - The Loop
Play Sound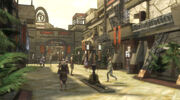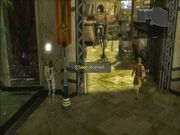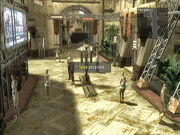 Location: Magic Republic of Uhra
"The beautiful sights of Main Street are the most memorable part of Uhra. The charmingly authentic flagstone boulevard melds seamlessly with thewonders of modern magic-engine technology to create a wonderful blend of old and new Uhra in one unique view."
-A book in Tolsan's Inn
Main Street connects the businesses of downtown Uhra, a district where people live, and the Council Hall.
Zones
[
]
Points of Interest
[
]
There is a Save Orb at the southeast end of the street outside the Council Hall
Tuncan provides the clue for this treasure
Devious Muhga provides the clue for this treasure
Dreams
[
]
Listed in the order the player is most likely to acquire them
| Name | Location | Acquired |
| --- | --- | --- |
| Wind Seal Leaf | At southeast end of street just ouside the small council square | "Examine" poster |
| Magma Fragment | Left side above a man in red talking to a shorter man in brown | "Kick" black object |
| 100 Gold | Left side at the south end near the only archway on the street | "Kick" black object |
| Seed #05 | Left side of the only archway on the street on a wall | "Examine" poster |
| Healing Medicine | Right side at the bottom of the stairs near the archway | "Examine" poster |
| Antidote | Directly opposite the Healing Medicine listed above | "Examine" poster |
| 10 Gold | In an alley where a man in yellow is walking | "Examine" poster |
| 2x Whetstone | In the same alley next to the dog | "Probe" vase |
| Mana Herb | Left side against a wall decorated with plants | "Kick" black object |
| Seed #06 | Left side against a wall beneath the large TV monitor | "Kick" black object |
The following items cannot be obtained until disc 3
| Name | Location | Acquired |
| --- | --- | --- |
| Seed #72 | Outside the rear exit of Tolsan's Inn in an alley against a gate | "Kick" large can |
| 4x Jet Black Cloth | Outside the rear exit of Tolsan's Inn in an alley against a gate right next to the Seed | "Kick" large can |
| 500G | On the platform above the large archway | "Probe" the pot |
| 500G | After exiting the inn via the rear door, in a garbage can to your right. | "Kick" the can |